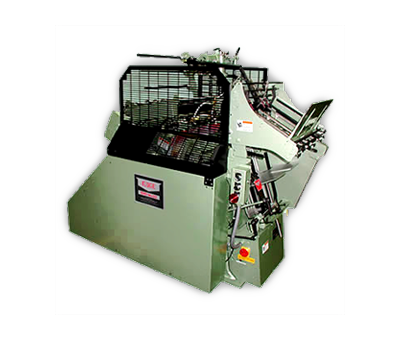 Often called "the workhorse of the industry", the Kluge EHD is already a legend. Featuring speeds up to 3,300 impressions per hour, the EHD now comes with delayed delivery allowing it to accommodate sheets up to 17″x 24.75″ (431mm x 628mm), with up to 40 square inches of die area. Kluge's patented Delayed Dwell technology allows the EHD to start on impression sooner, bottom out, and remain on impression longer­ doubling impression time with no loss of production speed and assuring flawless foil separation from the stock. A new, optional, freestanding mobile electronics console puts all press operations in one place for easy access. The same console can also serve as a workstation and toolbox.
Rugged, dependable and simple to operate, the EHD is known for providing years of reliable service in foil stamping, embossing and die cutting, and for over 25 years has been the standard by which all presses in its class are measured.
All Kluge presses can be supplied with the electrical specification of your country.
Technical Specification EHD
Max. Sheet Format:
431 x 628 mm
Min. Sheet Format:
101 x 127 mm
Max. Stamping Format:
356 x 559 mm
Max. Speed:
3300 strokes/h
Foil Feeds:
up to 3
Hologram controllers
Hologram Registration Unit – Provides the technology for registering holograms on the EHD
Adjustable Impression – Decrease make-ready time. Impression can now be infinitely adjusted with the simple turn of a handle
Mechanical Jogger – Prevents a saw-toothed edge on your finished pack
Preload Magazine – Allows you to reload the press with new stock while the press is running
Two-up Feeder – Allows the EHD to run Two-Up on certain jobs
Electronic Foil Control System – Increased impression accuracy when foil stamping
Reversible Register Cam – Saves time in make-ready when adjusting side registration
Variable Speed Control – Control press speed with greater accuracy
Dual Foil Rewind – Provides smooth rewind operations for different, multiple draw lengths or waste foil diameters
Filler Plate – Replacement for die heating plate when die cutting
Missed Sheet Detector – Prevents die, make-ready and press damage
Foil Detector – Stops the press when a roll of foil is empty
Lightweight Grid-etched Toggle Base – Gridded construction for greater accuracy in the die make-ready and weighs only 14lbs.
Media
 Foil Stamping Hard Back Book Covers
 Foil Stamping Pocket Folders
 
 
 Heavy and Light Stock Feeding Demonstration
 Die cutting Tags