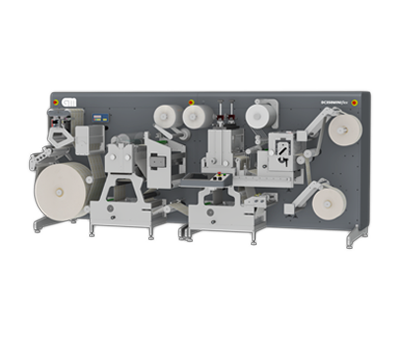 DC350Flex – Compact Integrated Converting Line for Labels
The DC350Flex – a new, efficient and economical compact finisher with the best components of the DC350 Premium Finishing Line.
Build with semi-rotation in varnish, die-cutting, slitting and dual rewind as standard. Upgrade with value options like spot varnish, cold foil, lamination, SmartSlit or SmartCrush, SmartStrip, corona, web clean, back scoring, inline buffer and more.
The new DC350Flex is prepared for in-line operation with all major digital presses providing professional label printers with a complete and versatile solution for high volume digital printing.
Features:
Modern platform ensuring quick setup and flexibility
Industry leading user interface giving the operator a graphical representation of the machine as installed
Fully customizable for individual needs
SmartGap electronic semi-rotary die-cut option
Web-advance for a fast roll change
Online Support – easy web access and maintenance
Technical Specification DC350FLEX
Web Width
50 – 350 mm
Substrate Thicknesses
50 – 200 g/m²
Die Station
Semi-Rotary Web Speed
72 m/min
Full-Rotary Web Speed
130 m/min
Die plate size
50.8 – 558.8 mm
Rewinder/Unwinder
Max. diameter on unwind
700 mm
Max. diameter on dual shaft rewind
700 mm
Core diameter
76.2 mm
Flexo Station
Print cylinder size
254 – 711 mm
Spot varnish option with registration and slow run
Slitting Station
Knife Type: Pneumatic crush, razor, SmartCrush, shear, SmartSlit
Min. distance crush/razor
12.7 mm
Max. number of crush/razor knives
14
Min. distance SmartCrush
30 mm
Max. number of SmartCrush knives
11
Min. distance shear
10 mm
Min. distance SmartSlit
20 mm
Max. number of knives
16
Power / Air
3x400V+N+PE, 32A, 6 bar
Size (WxDxH)
4,0 x 1,6 x 1,7 m
Exhaust
Ø125 mm, 800 m3/h, external.
DC350FLEX Options
GM SmartFlexo Station
flower style with optional semi-rotation in flexo unit for format free print (only one cliche cylinder) and with registration system (spot varnish / cold foil print).
GM SmartStrip
ensures trouble-free operation even while converting delicate substrates and complex label shapes at high speed.
GM SmartSlit
automatically positions up to 16 knives in 2 minutes, saving valuable time on short-run jobs.
GM SmartCrush
an ultra-quick set knives system, allowing fast and precise setting of each crush knife – also while running.
GM SmartLam
multi-layer labels are often used for pharmaceutical and medical label applications – especially when government regulations require product information to remain intact with the product.
GM Semi-Automatic Turret
it offers very quick make ready times, unlike conventional rewinding. This allows shorter runs to be produced both quickly and more efficiently.