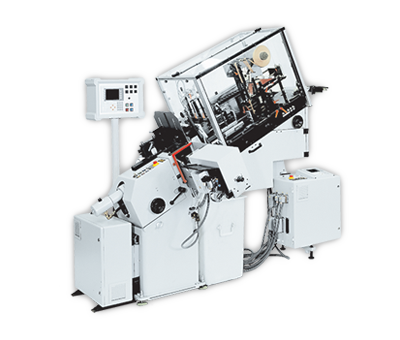 The ATLAS-1140 is a semi-automatic ram punching machine, which is equipped with automatic in-line banding. This way, even the smallest and most complex label shapes can be perfectly banded. This manual fed machine, which can be loaded comfortably with pre-cut stacks, is ideal for small to medium-sized productions. Thanks to the automatic stack separation and banding, even for small quantities a maximum automation can be achieved.
Compact dimensions, easy accessibility, very efficient and safe to use – these are additional features of the ATLAS-1140. It is used everywhere where top flexibility is required and/or when many format changes are demanded day after day. The machine is also used as an introductory model with the big advantage that even large jobs or maxi banding can be handled, as needed.
The ATLAS-1140 can be upgraded with an automatic strip cutter in order to have all the advantages of a fully automatic ATLAS-1110.
Standard banding material:
Paperband rolls 25 mm/600 m
Polyester foil rolls 25 mm/900 m
Technical Specification ATLAS 1140
Min. Precut Label Size:
25 x 45 mm
Max. Precut Label Size:
170 x 220 mm
Min. Punched Label Size:
20 x 40 mm
Max. Punched Label Size:
166 x 215 mm
Stack Height Min./Max.:
30 / 120 mm
Min. Trim Per Side:
2 mm
Machine Strokes Per Minute:
8 – 16
Available Option: Maxi-pack banding
Punched to stack labels (beer, wine, food, tags, etc.)
Punched booklets
Playing cards
Banding only of square cut labels (beer, wine, food, tags, etc.)
Plastic cards
Cardboard cards
Other products
For small to medium-sized volume production