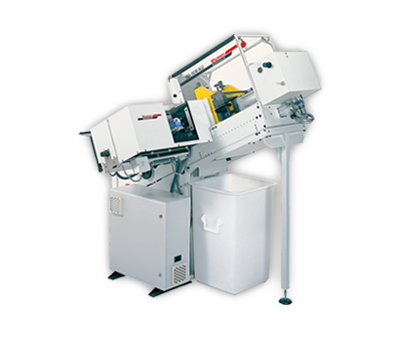 The most difficult materials, such as aluminium bottleneck labels, slippery and thin plastic foils, or strongly embossed labels with narrow borders require a counter pressure die-cutting system. The DG-20.M is the basic counter-pressure model, which can be manually loaded with pre-cut stacks of labels in the range of small to medium sizes.
Top precision is always guaranteed with this refined counter-pressure system. Thanks to the very precise and centrally adjustable counter-pressure plate in the die, the "pillowing" effect of spongy materials can be prevented. Size differences between the top and bottom labels within the stack are then eliminated. The completely punched label stacks can be conveniently taken out of the machine opposite the loading station. Thanks to the clever punching sequence, an unbeatable performance and quality for counter-pressure systems can be achieved with this technology.
The DG-20.M is the core model of all our semi- and fully automatic counter-pressure systems and can therefore be upgraded to an ATLAS AG-1140, an ATLAS AG-1120 or an ATLAS AG-1110.
For the production of medium to large size label stacks, the large-format DG-35.M counter pressure punching machine is used.
Technical Specification DG-20.M
Min. Precut Label Size:
55 x 55 mm
Max. Precut Label Size:
170 x 215 mm
Min. Punched Label Size:
50 x 50 mm
Max. Punched Label Size:
166 x 211 mm
Stack Height Min./Max.:
40 / 120 mm
Min. Trim Per Side:
2 mm
Machine Strokes Per Minute:
8 – 10
In-mold labels
Sophisticated liquor labels
Beer bottleneck foils
Heavily embossed products
Thin plastic foils
Whenever top accuracy is required
For small to medium volume production