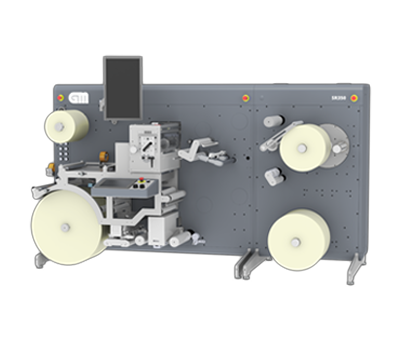 The SR350 is a highly reliable, high-speed slitter inspection rewind machine.
The SR350 features the newest in servo motion technology and a unique option for auto-set knives.  Designed for a wide range of SA labels on paper and plastic liners including the UPM PP30 and AD PET 23µm liners, booklet, tube laminate, Alufoil, Tyvek, cardboard, multilaminate.
Open concept, easy upgrade and quick set-up
Fully modular open concept allows to add the options such as 100% inspection camera, scanner bar code reader, ink-jet systems, register die-cutters, automatic slitting unit, waste vacuum ejector and turret rewinder.
Quick set-up routines with the build in job-recall system ensure all systems are ready to run simultaneously, making it faster to change jobs.
Highlights:
High speed up to 300m/min for efficient converting
Automatic slitting available
Code for laser & slitting – possibility to combine two machines working together thanks to using the same barcodes. The knives are set automatically utilizing information from barcodes.
Advanced Nikka M1 label inspection system option, the machine stops precisely within 10cm if detect any error
High speed up to 200m/min in full inspection mode with Camera Inspection
Full rotary Die Cut option for white labels
Length slitting station with 3x knifes either (Shear / Razor / Crush)
Seated operator work position
Domino inkjet printing option for codes producing
Upgrade possible – more options available
Easy web access and maintenance
Technical Specification SR350
Web Width
50 – 350 mm
Substrate Thicknesses
50 – 200 µm
Max. Speed
300 m/min
Max. Speed with Camera Inspection
200 m/min
Unwinder
Max. Diameter
700 mm
Core diameter
76.2 mm
Rewinder – Single, Dual or Turret option
Max. Diameter
500 mm
Max. Diameter on Turret
400 mm
Core diameter
25-152 mm
Web guide
BST Ultrasonic
Camera Inspection System
Nikka video M1+ or other
Missing label system
Slitting Station
Knife Type: AutoSlitting shear or manual pneumatic crush/shear/razor knife
Min. distance crush/razor
12.7 mm
Max. number of crush/razor knives
14
Min. distance shear
10 mm
Min. distance SmartSlit
20 mm
Max. number of knives
16
Power / Air
3x400V+N+PE, 16A, 6 bar
Leak current
min 350mA HFI / RCCB
Size (WxDxH)
2.0 x1.6 x 2.0 m
Exhaust
Ø100 mm, 800 m3/h, external.
Media
GM SR350 – Slitter Rewinder with Inspection