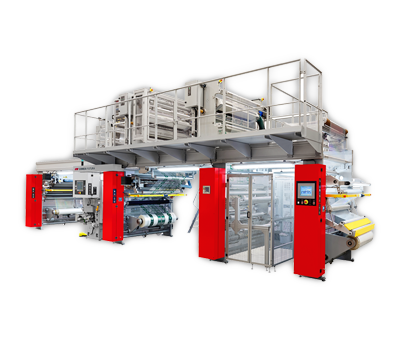 The Comexi FUTURA is a versatile machine designed to offer a greater added value to the product, thanks to all its finishing options
It guarantees a holographic finish thanks to a technology known as Cast & Cure, creating a highly attractive visual register effect using a UV lacquer, without the need for laminating and completely free of VOC. It also offers copy protection to guarantee the genuineness of the packaging.
It allows applying cold-foil, UV laminating, different coatings to give an attractive finish to the product, and the possibility of solventless laminating.
Technical Specification DUAL
Max. Web. Width:
1330 mm
Max. Lam. Width:
1310  mm
Max. Speed:
450 m / min
Max. Unwinder Diameter:
1000 mm
Max. Rewinder Diameter:
1000  mm
Materials:
LDPE, HDPE, LLDPE, BOPP, PET, PA, Alufoil, Paper, Films Coex