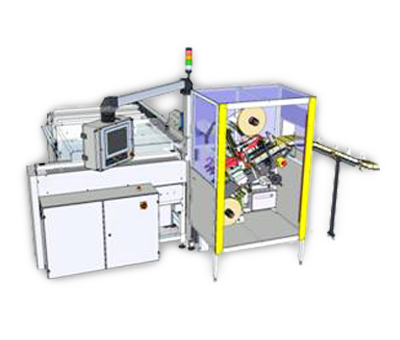 Based on the extremely successful ATLAS-1200 concept, the ATLAS-1200 Double Stream can cut and band two pre-cut stack of strips at the same time. There are no compromises with regard to precision, but the machine capacity is nearly doubled compared to the standard model.
Despite the very high performance, all of the many advantageous attributes of the standard ATLAS-1200 model are also included in the Double Stream machine.
Because even the smallest tax stamps can be cut and banded precisely and in a very controlled manner, this machine is extremely appealing to security printers.
Beer label manufacturers have the option of producing "double stream" maxi packs. Large size labels can be cut in a single strip mode, but finished with a double band. It does not matter at all whether the stack is banded once, twice or as a maxi pack – tight and reliable banding can be guaranteed every time.
Like any other Blumer machine, the ATLAS-1200 Double Stream can either be placed totally independent, or in-line to the upstream process. Optionally the machine can be equipped with an automatic gripper system for the automatic loading process of the strip stacks.
Standard banding material:
Paperband rolls 25 mm/600 m
Polyester foil rolls 25 mm/900 m
Technical Specification ATLAS-1200 doublestream
Min. / Max. Strip Lengths:
350 / 1115 mm
Min. / Max. Strip Widths:
38 / 200 mm,
or 2 x 38 up to 2 x 100 mm
Min. Cut Label Size:
25 x 40 mm with
with "11 mm" kit: 11 x 40 mm
Max. Cut Label Size:
single strip: 170 x 200 mm
double strip: 170 x 100 mm
Stack Height Min./Max.:
40 / 120 mm
Performance:
18 stacks/min. in single strip operation
30 stacks/min. in double strip operation
Square cut labels (beer, wine, food, tags, etc.)
Tax stamps
Sealing stamps
Other products
For highest accuracy requirements
For high volume prodcution