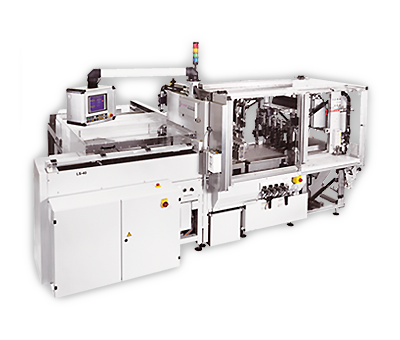 A machine with a lot of potential for all factories cutting products (e.g. labels) into stacks with regular paper cutting machines. Regardless of whether placed in-line with an existing guillotine, or completely independently off-line, the ATLAS-40 enormously improves cutting productivity. The operator of the guillotine cuts the sheets only into strips, which is easy to handle and can be done conveniently in a very short time. Then the strips – individually or in big logs – are pushed manually or automatically onto the feed table of the ATLAS-40. The rest of the process is then done completely automatically (without operator): Buffering, separation into 1–4 strips (depending on strip width), cutting, intermediate cuts and finally banding on 1–4 stations.
To achieve the highest possible cutting precision, the strips are always properly guided and held down during the cutting process. Even after cutting, the individual stacks are held down until the banding process is completed. This way, the top labels can be prevented from shifting. In particular label production often requires intermediate cuts, which are very easy to program. Ionized air prevents static problems if plastic materials have to be cut.
Compared with cutting process on regular guillotines, productivity can be increased by up to 300% with the ATLAS-40, depending on the job. In addition to that, fewer personnel are required. Regardless of whether paper or plastic materials, the ATLAS-40 is the innovative solution for the cutting and banding process of small- or large-size stacks. Because the ATLAS-40 can also be extended by a DG-35 counter pressure die cutting machine for in-mold labels, this machine is even more versatile to use.
Standard banding material:
Polyester foil rolls 25 mm/900 m
Technical Specification ATLAS-40
Min. / Max. Strip Lengths:
350 / 1150 mm
Min. / Max. Strip Widths:
65 / 426 mm
Number of strips per cut:
1 – 4
Min. Cut Label Size:
25 x 65 mm
Max. Cut Label Size:
245 x 426 mm
Stack Height Min./Max.:
40 / 120 mm
Min. Trim Per Side:
2 mm
Label stacks per minute:
7 – 11 multiplied with number of strips
Square cut labels (beer, wine, food, tags, etc.)
Large-size can labels
Rectangular in-mold labels
Other products
Ideal for challenging materials
For highest accuracy requirements
For medium to large volume production