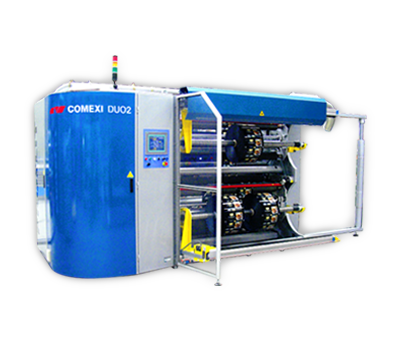 The Comexi DUO2 slitter is a top range machine, which will provide you with excellent results in both quality and productivity, even in the most demanding jobs
Due to its robustness and design, it will generate large diameter reels at the exit at a very high working speed.
Thanks to its regulating and control elements it will produce jobs with handling difficulties, without any problem. With the Comexi DUO2 you will not have any problems working with thicker structures in the flexible packagings sector or even with aluminium, wax or non-woven packagings.
Technical Specification DUO2
Max. Web. Width:
1400 mm (others on request)
Speed:
800 m / min
Min. Cutting Width:
20 mm
Max. Unwinder Diameter:
1350 mm (1550 mm as an option)
Max. Rewinder Diameter:
800 mm
No. of Rewinder-Shafts:
2 (non turret)
Range of Materials:
Greater Flexibility
Technical Specification DUO2 HD
Max. Web. Width:
1700 mm (others on request)
Speed:
600 m / min
Min. Cutting Width:
20 mm
Max. Unwinder Diameter:
1350 mm (1550 mm as an option)
Max. Rewinder Diameter:
1000 mm
No. of Rewinder-Shafts:
2 (non turret)
Range of Materials:
Greater Flexibility