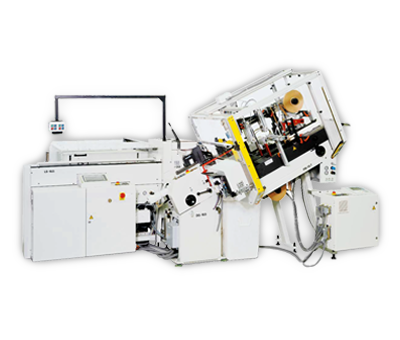 The fully automatic counter-pressure machine for small to medium-sized formats leaves nothing to be desired with regard to precision and performance. Challenging materials and the most difficult shapes can be processed on this machine.
In addition to the machine core, the DG-20.M counter pressure die cutting machine, the ATLAS AG-1110 also has a large buffering table, a strip cutter and a banding unit.
Regardless of whether the machine is set up in-line or off-line with to the upstream process, and whether the pre-cut stacks of strips are fed manually or automatically, the ATLAS AG-1110 offers all flexibility, even in regards to the substrates being processed.
Standard banding material:
Paperband rolls 25 mm/600 m
Polyester foil rolls 25 mm/900 m
Technical Specification ATLAS AG-1110
Min. Precut Label Size:
55 x 55 mm
Max. Precut Label Size:
170 x 215 mm
Min. Punched Label Size:
50 x 50 mm
Max. Punched Label Size:
166 x 211 mm
Stack Height Min./Max.:
40 / 120 mm
Min. Trim Per Side:
2 mm
Machine Strokes Per Minute:
8 – 10
In-mold labels
Sophisticated liquor labels
Beer bottleneck foils
Heavily embossed products
Thin plastic foils
Whenever top accuracy is required
For medium to high volume production