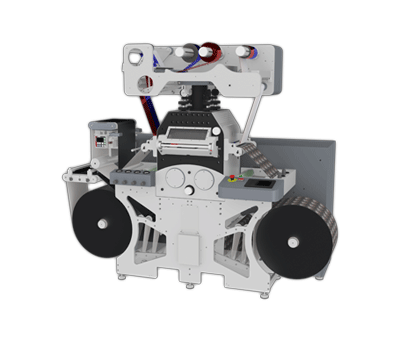 Hot stamping with gold, silver or holographic effects combined with embossing gives great embellishment results to the labels.
The best way to impress consumers is the right combination of quality and beauty, and this is where the FB330 flatbed hot stamp unit from Grafisk Maskinfabrik will help you out. The HOTFB330 is an innovative unit that will give your labels an impressive and unique look-and-feel. On the matter of the quality of hot stamping, the flatbed is the best choice, and on the matter of beauty, the FB330 can add intricate details of gold, silver or even holograms to your labels.
Furthermore, the HOTFB330 is not a one-trick-pony, it will do both hot foil and cold embossing to serve all your needs. Advanced features such as foil saver, servo-register and electronic temperature control & BST web-guide comes as standard.
Highlights:
Servo register system for printed marks or optional label gap sensor
BST ultrasonic web guide.
Easy loading of plate and counter plate in the hot state
Graphical touch screen with label counter, meter counter, alarms & more
Easy web access and maintenance
Runs offline or inline with other GM converting machines
Technical Specification HOT330FB
Web Width
50 – 330 mm
Substrate Thicknesses
50 – 200 µm
Stamp Speed
Up to 35/min
Stamp plate
304.8 x 330 mm
plate thickness
5 – 15 mm
Plate material
Magnesium, brass, copper, polymer
Unwinder
Max. Diameter
600 mm
Core diameter
76.2 or 152.4 mm
Rewinder
Max. Diameter
500 mm
Core diameter
25.4, 76.2 or 152.4 mm
Power / Air
3x400V+N+PE, 32A, 6 bar
Size (WxDxH)
2.2 x 1.3 x 1.9 m
Media
 Hot330FB
 Hot foil HOTFB330 inline with DC330MINI