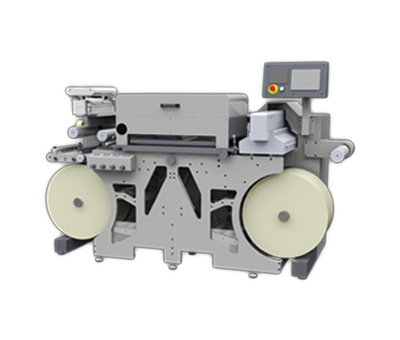 Add raised varnish or fine signatur print to your labels
The SC330 screen printing unit from Grafisk Maskinfabrik has a printing area of 330mm(width) x 304,8mm(length) and is designed and engineered to perform screen-printing of the highest quality possible on flexible materials. After printing, the ink drying is undertaken by UV-curing(GEW). The SC330 is compatible with tooling (screens) from existing equipment.
Preparing and setting up the SC330 is very simple and fast, which makes this machine suitable to complete even very short runs. Apart from being a cost-efficient alternative to rotary printing due to the low costs of mesh and frame, screen-printing also has several other advantages e.g. easy set-up and less waste.
Technical Specification SC330
Web Width
50 – 330 mm
Substrate Thicknesses
50 – 200 µm
Speed
Machine Speed
5 – 15 m/min
Screen speed
4000 1/h
Unwinder
Diameter max.
500 mm
Core diameter
25 – 152 mm
Rewinder
Diameter max.
500 mm
Core diameter
76,2 or 152,4 mm
Frame and Print Area
Frame size
660 x 500 x 30 mm
Frame type
30 mm aluminium
Print area
330 x 330 mm
Power / Air
3x400V+N+PE, 16A, 6 bar
Size (WxDxH)
2,3 x 1,2 x 1,5 m
Exhaust
Ø125 mm, 800 m3/h, external.
Media
GM NEW DC350NANO – your perfect label companion