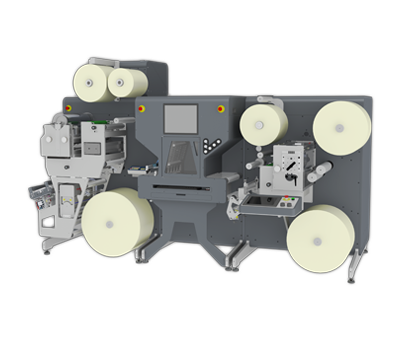 The GM LC350 is an excellent choice for digital label press.
The basic configuration has laser die, slitting and dual rewind, and the SmartFlexo varnish station is often added. Moreover, more complex setups are possible, such as spot varnish, lamination, cold foil, SmartSlit with an automatic knife positioning system and more. The laser module comes on a standard GM frame and is designed to fit into any GM converting line, eg DC350, with minor electrical and mechanical modifications.
Quick delivery
With near zero setup time for existing and new jobs, this system counters the challenges of smaller runs and shorter lead times, thus ensuring day-to-day delivery of labels. An investment in the LC350 will give you continuous production and increase efficiency and productivity.
Cost savings
Save the cost of buying conventional die plates, and spare the time spent setting up a new job. The LC350 will increase the flexibility of your production facility to take on short runs and lead times and is almost certainly the most cost-efficient laser die cut solution.
Upgrade path
The LC350 system can be upgraded up to 350W. The laser mirror system and control cards will remain in the unit – only the laser source is upgraded. This ensures a long lifetime of the machine and the full benefit of future low cost high power lasers.
Technical Specification LC350
Web Width
50 – 350 mm
Substrate Thicknesses
50 – 200 µm
Speed
Up to 72 m/min depending on laser power and cut pattern
Laser Die
Power
175W, 250W or 350W
Laser Type
Sealed, single head pulsed CO2
Laser Spot Size
350μm
Unwinder
Max. Diameter
700 mm
Core diameter
25.4 or 152.4 mm
Unwinder
Max. Diameter
600 mm
Core diameter
25.4 or 152.4 mm
SmartFlexo Station
Print cylinder size
254 – 711 mm
Spot varnish option
Slitting Station
Knife Type
Pneumatic crush, shear, razor or SmartSlit
Min. distance crush/razor
12.7 mm
Max. number of crush/razor knives
14
Min. distance shear
10 mm
Min. distance SmartSlit
20 mm
Max. number of knives
16
Power / Air
3x400V+N+PE, 32A, 6 bar
Size (WxDxH)
3.5 x 2.9 x 2.2 m
Exhaust UV
Ø125 mm, 800 m³/h, external.
Exhaust LASER
Ø160 mm, 1600 m³/h, external.
Superior laser cut quality thanks to the fully digital mirror (galvo) system.
Extra-long repeat lengths (up to 2.8 m) for special productions
Eliminated the "startup hole burn problem" of more simple systems thanks to digital & automatic 3D focus and power control system.
No tooling required, simply download the file from pre-press department and the GM LC350 laser will start working.
The laser has an optional bar code reader for quick change over and integration into Esko graphics pre-press solutions.
The laser module comes as a standard plug in module for the GM converts, but can also be feed into any other rotary web-fed machine.
The system is built using 100% standard industry components from major laser suppliers.
No more ordering conventional tooling and waiting days for delivery.
No more long make-readies and waste material.
No more storage and capital tied up in conventional tooling.
No more lifting heavy rotary tools.
Online support and remote diagnostics.
Industry 4.0 ready.
Media
GM Laser Die Cutters
GM LC350 Laser Die Cutter
Laser Die Cutter For Labels