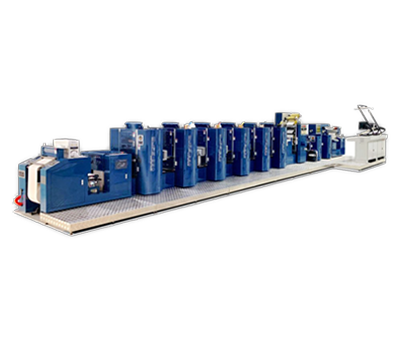 Shaftless semi-rotary offset label printing machine
This printing machine offers a combination of Japanese offset printing technology and Wanjie's intermittent rotary technology.
Shaftless Drive – The main control unit manages the performance of the independent servo drives, which ensures a very fast and accurate response at high speeds.
Printing Unit – In every printing unit there is a touch panel for independent adjustments, making eaier for the operator the set-up process. Once the printing repeat has been selected, every printing unit moves automatically to the printing position. The 210º structural design of the printing cilynders avoids the inherent problems of pressure setting.
Offset Ink Train – A very robust ink train guarantees the colour stability and print sharpness at any speed. By using a water oscillating roller in contact with the water-ink form roller it can be reached quickly the desired ink-water balance preventing the undesired bars and ghosting. The ink train is composed by 20 rollers, including:
4 oscillating roller
4 distributor rollers
4 ink form rollers
Semi-automatic plate change – The offset plated is changed semi-automatically. During its change, the movement and position of the cylinders and the grippers manoeuvres is electronically controled, shorthening up to 6 minutes a complete change over time for a six-colour machine.
Lubrication system – The machine is equipped with an automatic oiling system to ensure the life time of the machine.
Possible Options:
Corona Treater
Automatic Remote Ink Control
Flexo Varnishing unit
Semi-Rotary Hot Stamping unit
Flat-bed Screen unit
Flat-bed Embossing
Automatic Register
Technical Specification WJPS 350D
Web Width
350 mm
Max. Web Width
340 mm
Print Length
170-345 mm
Print Speed
30-180 impressions/min
Unwind Diameter
700 mm
Rewind Diameter
700 mm
Material Thickness
60-350 g/m²
Technical Specification WJPS 450D
Web Width
450 mm
Max. Web Width
440 mm
Print Length
210-420 mm
Print Speed
30-150 impressions/min
Unwind Diameter
800 mm
Rewind Diameter
800 mm
Material Thickness
80-350 g/m²
Technical Specification WJPS 560D
Web Width
560 mm
Max. Web Width
540 mm
Print Length
210-420 mm
Print Speed
30-150 impressions/min
Unwind Diameter
800 mm
Rewind Diameter
800 mm
Material Thickness
80-350 g/m²
Technical Specification WJPS 660D
Web Width
660 mm
Max. Web Width
650 mm
Print Length
210-420 mm
Print Speed
30-150 impressions/min
Unwind Diameter
800 mm
Rewind Diameter
800 mm
Material Thickness
80-350 g/m²