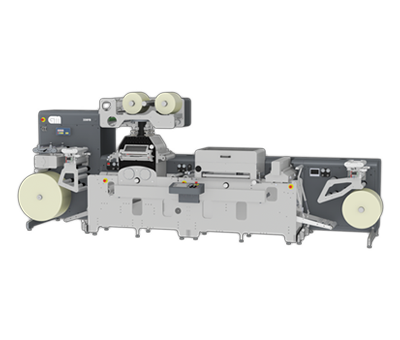 Premium Wine Label Line
The GM type 330FB is a full servo converting machine with 50-ton precision stamping unit for production of high-quality labels. The machine can be used for foil stamping, screen printing, embossing or one pass foil & embossing.
Quality and beauty combination
The best way to impress consumers is the right combination of quality and beauty, and this is where the 330FB flatbed hot stamp unit will help you out. The 330FB is an innovative unit that will give your labels an impressive and unique look-and-feel. On the matter of the quality of hot stamping, the flatbed is the best choice, and on the matter of beauty, the FB330 can add intricate details of gold, silver or even holograms to your labels.
New hi-tech features
Moreover, the 330FB will do both hot foil and cold embossing to serve all your needs. Advanced features such as foil saver, servo-register, servo unwinder and rewinder as well as electronic temperature control and BST dual web-guide come as standard. These all qualities have been implemented to ensure a perfectly smooth converting process with fully controlled web tension and to keep very high stability of the web in register. A new electronic platform guarantees better and faster machine operation as well as online support and remote maintenance.
Inline running
GM 330FB can run INLINE with DC330MINI and al GM die-cutters providing a complete solution from roll to finished product.
Rewinder
Technical Specification 330FB
Web Width
50 – 330 mm
Substrate Thicknesses
50 – 200 µm
Hot Foil & Embossing
Max Speed
44 m/min
Hotstamp plate size (WxL)
330 x 304,8 mm
Screen Printing
Max Speed
20 m/min
Print area
330 x 330 mm
Max repeat
1 m
Frame full size (WxDxH)
660 x 500 x 30 mm
Unwinder
Max. unwind diameter
700 mm
Core diameter
76,2 or 152,4 mm
Max. unwind diameter
700 mm
Core diameter
25,4, 76,2 or 152,4 mm
Power / Air
3x400V+N+PE, 32A, 6 bar (87psi)
Size (WxDxH)
5,0 x 1,4 x 1,9 m
Exhaust
Ø100 mm, 800 m³/h. Outside.
Media
 GM NEW 330FB – Premium Wine Label Line
 GM 330FB Hotfoil and Screen print line
 
 DC330 FB