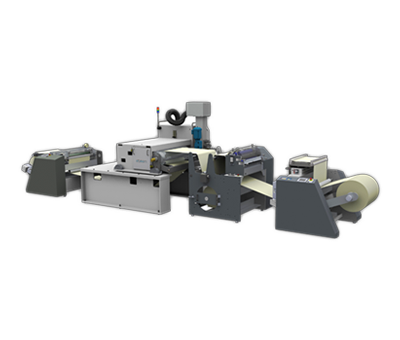 Integrated Coating Module with ebeam Curing
EB30 is an integrated module that features an unwinder (LUW30) varnish/lamination station and a rewinder (LRW30) designed to run in-line with EBEAM systems for curing a substrate. It is also designed as a stand-alone unwinder, varnish station and rewinder system. It is a microcontroller controlled system that integrates its four component units in a client way and allows easy modification of the unit.
EB30 has a user-friendly touch screen interface that allows the operator to operate the machine in an easy way. The machine has an enhanced taper tension control algorithm that ensures that excellent rolls are made.
EB30 Coating Line highlights:
Outstanding ink protection and excellent gloss matte and soft-touch finishes
Increased heat resistance enables heat sealing to form pouches
No harmful photoinitiators
Cross-linking thin-film laminating adhesives
Room temperature process, great for heat-sensitive substrates
High process efficiency: instant curing, no post-process storage needed
Technical Specification EB30
Web Width
762 mm
Substrate Thicknesses
50 – 200 µm
Semi-Rotary Web Speed
55 m/min
Unwinder/Rewinder
Unwind max.
500 mm
Rewind max.
500 mm
Core Diameter
76,2 mm
Flexo Station
Varnishing roller
228 – 406 mm
Spot varnish option with registration and slow run
Length approx.
8,6 m
Media
 GM EB30 – EBEAM Coating line for food safe flexible materials.
 GM EBEAM COATING LINE FOR FLEXIBLES