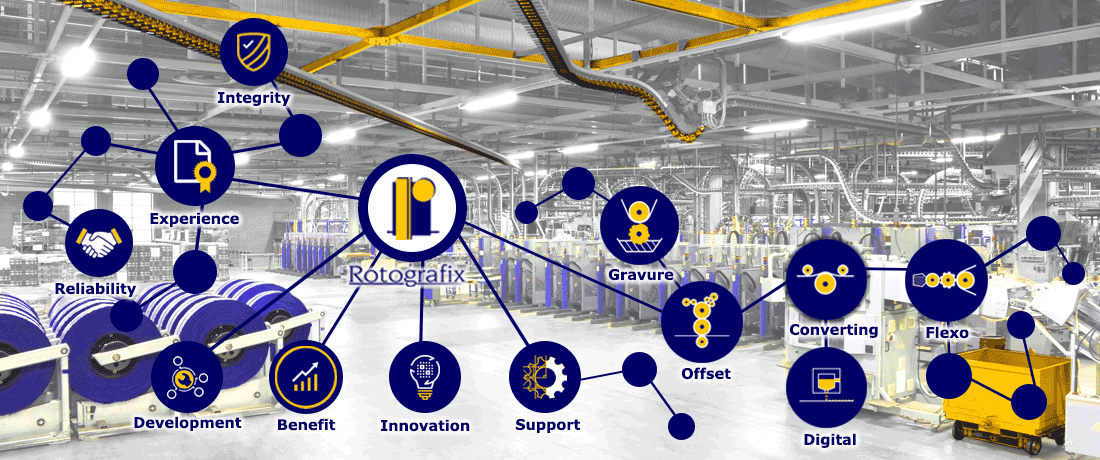 Company Profile

Rotografix is a family owned business focused on the distribution of equipment for the graphical industry in South-Eastern Europe. The company draws back on employees with over 30 years of experience in the paper, film and packaging industries.
As Rotografix' next generation has stepped in, our core team is also comprised of young ambitious experts who are continuing to preserve our work and with diligence promote our high standards.
We proudly emphasize our expertise in the successful implementation of complex and user-tailored production solutions, ranging from single process steps to complete production lines with the end-product as demand.
Since the foundation of our company we have built strong relationships to our partners, which furthermore enables us to facilitate rich in-field experience on delivering practical and enduring results.
Rotografix' headquarters are based in Vienna – Austria , additionally we have subsidaries in Belgrade – Serbia and Sofia – Bulgaria. Our area of operations is Slovenia, Croatia, Bosnia and Herzegovina, Serbia, Montenegro, Macedonia and Bulgaria.
Markets & Industries

Self-Adhesive Label Printing, Wet-Glue Label Printing, IML Label Printing, Flexible Packaging, Cardboard Packaging, Bookbinding, Newspaper Printing, Magazine, Printing, Advertisment Printing, Security and High-Security Printing

Flexible Packaging, Self-Adhesive Labels, IML Labels, Wet-Glue Labels, Cardboard Packaging, Corrugated, Tobacco Packaging, Books, Newspaper and Magazines, Security & High-Security
Area of Operation

Austria
Bulgaria
Slovenia
Croatia

Bosnia and Herzegowina

Serbia

Montenegro
Macedonia