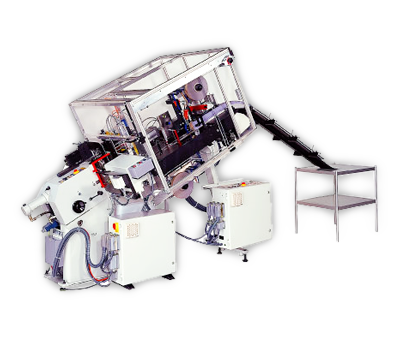 The ATLAS AG-1140 is a semi-automatic counter pressure die-cutting machine for small to medium-size formats, which is equipped with automatic in-line banding. Thus, not only can the most difficult materials be punched extremely accurate, but complex shapes can also be perfectly banded to tide label stacks.
This machine, which can be manually loaded with individual pre-cut stacks, is ideal for small to medium-volume productions. This machine is not only ideal for the in-mold label (IML) area, but is also often used for heavily embossed materials and sophisticated spirit or wine labels.
The ATLAS AG-1140 can be upgraded with an automatic strip cutter in order to take advantage of all the benefits of the fully automatic ATLAS AG-1110 counter-pressure line.
Standard banding material:
Paperband rolls 25 mm/600 m
Polyester foil rolls 25 mm/900 m
Technical Specification ATLAS AG-1140
Min. Precut Label Size:
55 x 55 mm
Max. Precut Label Size:
170 x 215 mm
Min. Punched Label Size:
50 x 50 mm
Max. Punched Label Size:
166 x 211 mm
Stack Height Min./Max.:
40 / 120 mm
Min. Trim Per Side:
2 mm
Machine Strokes Per Minute:
8 – 10
In-mold labels
Sophisticated liquor labels
Beer bottleneck foils
Heavily embossed products
Thin plastic foils
Whenever top accuracy is required
For small to medium volume production