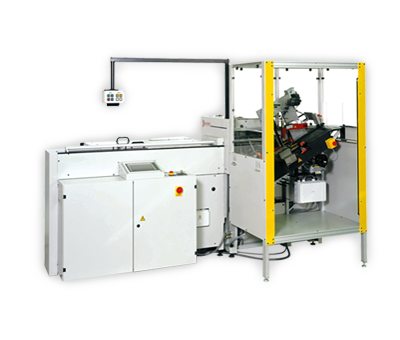 The cutting and banding process of rectangular labels is always a big challenge, especially when small sizes or difficult materials have to be cut. The ATLAS-1200 was designed for this special application. The strip stacks, previously cut on a guillotine cutter, are always properly guided and held down before and during the cutting process. Because this process takes place in a very controlled manner and therefore with highest process reliability, the ATLAS-1200 is used by many security printing companies for the cutting process of tax stamps. Even numbered products can be easily cut and banded.
The producers of beer labels especially appreciate the ATLAS-1200 for its ability to be equipped for the banding process of maxi packs.
If very large quantities of small labels or tax stamps have to be cut and banded, the ATLAS-1200 is also available in a "double strip" version (ATLAS-1200 Double Stream) with nearly double the capacity. For medium-size and large label formats, the maximum capacity can be achieved with the ATLAS-40.
Standard banding material:
Paperband rolls 25 mm/600 m
Polyester foil rolls 25 mm/900 m
Technical Specification ATLAS 1200
Min. / Max. Strip Lengths:
350 / 1115 mm
Min. / Max. Strip Widths:
38 / 215 mm
Min. Cut Label Size:
25 x 38 mm
with "11 mm" kit: 11 x 38 mm
Max. Cut Label Size:
170 x 215 mm
Stack Height Min./Max.:
40 / 120 mm
Machine strokes per minute:
14 – 20
Square cut labels (beer, wine, food, tags, etc.)
Tax stamps
Sealing labels
In-mold labels
Other products
For highest accuracy requirements
For medium to large volume production