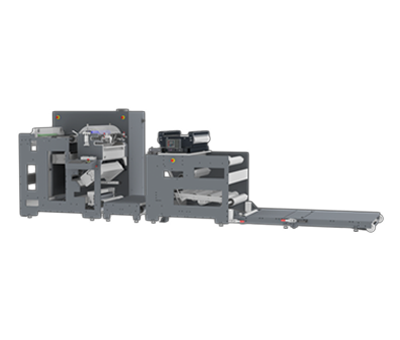 Inline Coating system for HP Indigo
The GM IC30 is an innovative, inline or offline 30-inch coating system with an optional selective coating solution for flexible packaging films and carton folding substrates using hot-air, UV or EBEAM curing technology. It is 100% modular and designed for perfect integration with 30-inch wide digital presses like HP Indigo 20000/30000. The GM IC30 offers state-of-the-art coating and – depends on configuration – is ideal for a wide range of applications, including flexible bags and pouches, shrink sleeves, twists wraps, carton substrates for the pharmaceutical market, cosmetics, consumer electronics, promotional, gifts and more.
The IC30 and HP Indigo offer a complete digital printing production line – for printing, full surface or selective coating and stacking.
IC30 Coating Line highlights:
Fully modular wide web inline-coating system
Outstanding ink protection and excellent gloss matte and soft-touch finishes
Enabling production of any size job from very small batches to large-scale production
Spot varnish, sheeting, stacking modules and more options can be added
UV varnish and/or water-based configuration
EBEAM curing can be added
Enabling production of any size job from very small batches to large-scale production
Technical Specification IC30
Web Width
20 – 762 mm
Substrate Thicknesses
up to 550 µm
Die Station
Semi-Rotary Web Speed
55 m/min
Webguide
BST Ultrasonic
Flexo Sation
Print Cylinder size – option 1
228 – 482,5 mm
Print Cylinder size – option 2
482,5 – 1016 mm
Spot varnish option with registration and slow run
Size (WxDxH)
6,0 x 2,2 x 1,7 m