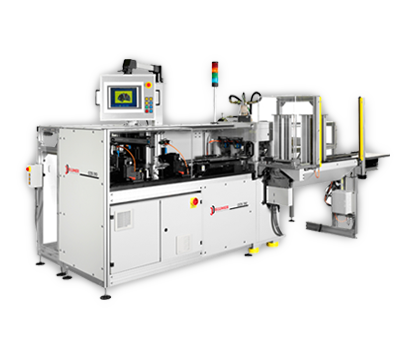 Continuously increasing security requirements in the card area mean having to process increasingly challenging materials. These materials and, in particular, also the variety of different material combinations, can hardly be processed cost-efficiently any longer with conventional card-punching (male / female) technology.
Based on Blumer's extensive experience in the punching area, a completely new tool system has been developed, which punches/cuts the cards from the sheet simultaneously from the bottom and top. With this extremely precise system, not only is the previously unattained card quality achieved for these cards, but it is also possible to process all materials with a single tool. Whenever difficult materials, such as polycarbonate, or a multitude of different material combinations are processed, enormous tooling costs can be saved with the CCS-310 Card Cutting System.
Common, less sophisticated cards, which are usually punched cost-efficiently with the conventional, existing male / female punching tools, can also be produced on the CCS-310 machine using an adapter. As a result, this machine, distinguished with an "Elan" ICMA development Award, has become a unique hybrid solution, which will optimally meet the needs of the discriminating card manufacturer, now and in the future.
Technical Specification CCS 310
Sheet Length:
440 – 670 mm (7 – 10 cards)
Sheet Width:
292 – 340 mm (3 cards)
Sheet Thickness:
0.5 – 1 mm
Card (ISO/IEC 7810) Width:
85.47 – 85.72 mm
Cards (ISO/IEC 7810) Height:
53.92 – 54.03 mm
Card Corners:
R = 3.18 mm
Cut to Print Tolerance:
0.10 mm
Capacity:
up to 19'000 cards/h
ID cards
Driver's licenses, Medicare cards, etc.
Display cards
Cold-laminated card
Full-colour materials
All materials
Top precision standards
For medium to high volume production
For specialities