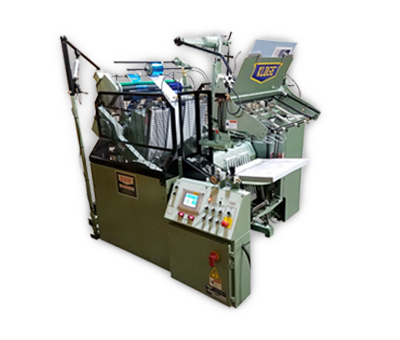 Without a doubt, Kluge customers were in mind when designing our brand new press. For many years customers have relied on Kluge's quality craftsmanship and the demand for a Kluge half-sheet press has reached it's ultimate.
Designed to accommodate an image area of up to 22" x 30" and at speeds of 1700 iph, the EHG Series Half-Sheet Press is available with foil stamping, diecutting & embossing capabilities or solely as a die cutter.
Feature highlights of the machine include EZ Load Magazine, Toggle Base Hoist System and an incredibly small footprint.
All Kluge presses can be supplied with the electrical specification of your country.
Technical Specification EHG
Max. Sheet Format:
559 x 762 mm
Min. Sheet Format:
215 x 279 mm
Max. Stamping Format:
559 x 762 mm
Max. Speed:
1700 strokes/h
Foil Feeds:
up to 3
Hologram controllers
EZ Load Magazine – Magazine lowering device to assist in loading stock into the machine
Toggle Base Hoist System – Effortly lifts the large steel toggle base from the machine for make-ready
Dual Set Point Temperature Controls – Provides operator with two temperature setting options – one for standby temperature and one for operating temperature
Dual Foil Rewind – Provides smooth rewind operations for different, multiple draw lengths or waste foil diameter
Five-Nozzle Air Blast Foil Release – Separates foil web from the stock for improved product quality and increased productivity (requires separate compressor or air system)
Hologram Registration Unit – Provides the technology for registering holograms on the EHF
Foil Detector – Stops the press when a roll of foil is empty.
Media
 EZ Load Magazine
 EHG Foil Stamping Posters "Fish Scene"
 
 
 Kluge EHG Foil Stamping 20×28 Globe Posters
 Creasing and Perfing Brochures