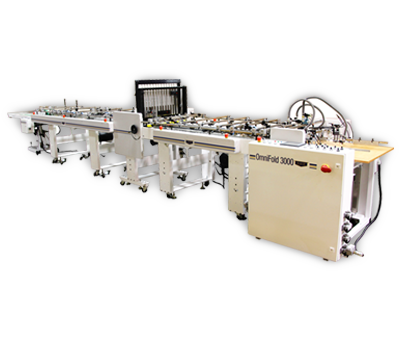 The Kluge OmniFold 3000 Automatic Folding and Gluing System is a fully modular converting system designed to fulfill today's need and grow with future demands of the commercial printer and packaging manufacturer.
Built to maximize converting capabilities while minimizing set-up time, the OmniFold includes features that bring productivity and reliability to a new level of expectation. These advancements are met with the quality you expect from Brandtjen & Kluge.
Technical Specification Technical Specification OmniFold 3000
Max. Sheet Format:
762 x 812 mm
Min. Sheet Format:
121 x 96 mm
Stock Range:
60 – 660 g/m²
Max. Speed:
450 fpm
Control Console and Docking Station – Includes touchscreen controls and Multi-Sheet Detector (MSD)
Modular Vacuum Feeder and Modular Friction Feeder – Mobile modules allow you to quickly change between vacuum and friction feeding. Self aligning feature minimizes changeover time.
Left (standard) and Right (optional) Registration – EXCLUSIVE FEATURE saves time and expands converting capabilities.
3ft (IL-3), 6ft (IL-6) & 9ft (IL-9) Inline Unites – Add converting length with interchangeable units.
Bottom Bearing Bed Transports – Provides product control.
Flipgate – Provides a rotary-actuated cross fold.
Synchronous Belt Drives – Require minimal maintenance.
PATENTED Dual-Angle Buckle Folder – Produce faster, quality crossfolds on both heavy and lightweight stock.
Bump90- Rotates stock 90 degrees for folding and gluing.
Score-N-Convert Kit – Score and perforate inline.
Fold Hook Kit – For various auto-lock bottom applications
Tab Balster – For the conversion of interior glue flaps.
6.5 inch, 18 inch, 33 inch and 36 inch Top Belt Drives – Provide product control.
Accordion Kit – Convert accordion folders and similar folds.
Stacker Unit – Compresses, counts & batches product.
Compression Stacker – Provides necessary time and compression for successful cold glue applications.
Media
CartonsinMinutes
OmniFold 3000 running a wallet
 
 
OmniFold 3000 with Bump 90
Gluer performing accordion folds