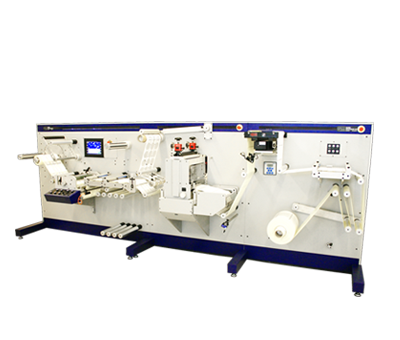 The LS360 slitter-rewinder with optional die cutter – top performance converting platform
The LS360 is based on different standard modules offering very flexible configurations. This high speed converter can die cut, slit, inspect and rewind. It is designed for demanding label jobs on both paper and film. A semi-automatic turret rewind increases productivity. The machine is operated by a graphical touch screen in the local language.
Technical Specification LS360
Web Width
360 mm
(other sizes on request)
Max. Web Speed:
250 m/min
Max. Rewind Diameter:
Dual turret rewind
76 mm core / 400 mm diameter
Max. Unwind Diameter:
76 mm core / 1000 mm diameter
Pneumatic 76mm (3″) unwind & rewind mandrel
Places label errors on splicetable
Scissor knife slitting including 3 sets of knifes
Electronic servo driven tension control
Quick release/removable nip roller with
Programmable end of roll stop and unwind (electronic – no arm)
Electronic web guidance system with ultrasonic
Adjustable splicing table with pneumatic clamps
Extra spindel for removal of waste product
Error display for fast response to problems
Label or length count with easy pick up sensor adjustment
Automatic slow down and stop
Total and batch count
Multi lane missing label.
Capacitive sensor for "clear on clear" labels.
Strobe 8W or 30W lamp power.
Inkjet system.
Video inspection.
Roll lift.
Semi-rotation.
Media
LS360: Turret Rewinder