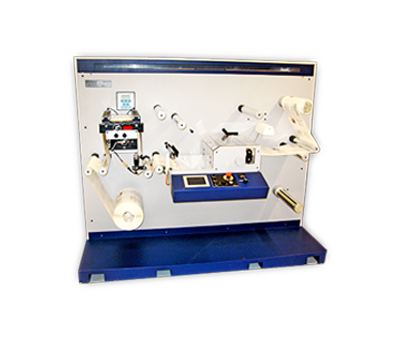 The LA330 slitter-rewinder floor model – high performance rotary slitter
High performance rotary slitter. The LA330 Slitter-Rewinding has been designed for especially demanding rewind jobs of high quality. The one-way rewinder has web tension control, active web guide and a splice table with pneumatic splice clamps. It offers step less tension setting on each rewind. The rewinder is equipped with air expansion mandrels with sleeves easily exchangeable to other sizes. The rewinder can be set at rewinding label-in or label-out, and many functions are set and defined by touch display.
The LA330 slitter-rewinder is prepared for mounting of inkjet or code systems as well as stroboscopes or vision systems. The slitter system can be either blade, rotary or crush based. The machine can be fitted with a lamination nip. In this configuration the top rewind is used to unwind a self-adhesive lamination foil.
Technical Specification LA 330
Web Width
330 mm
Web Guide:
Fife with ultrasonic fork
Speed:
32m/min standard
(150m/min on request)
Substrate Thicknesses:
50 – 200 g/m²
Max. Rewind Diameter:
500 mm
Max. Unwind Diameter:
600 mm standard.
800 mm optional